We pride ourselves in understanding our customers' deepest needs by selecting only the highest quality products from the very finest farms through the country as well as maintaining their nutritional values throughout the production process.
Alkayyan produces a premium quality of IQF Frozen Fruits and Vegetables with the most advanced technology methods available. 
Our factory is equipped with the most advanced Production lines for Fruits & Vegetables. We produce around 60,000 Tons of IQF Frozen Fruits & Vegetables per year from our wide range of products, increased annually by 20 -40 % for Export Only!
Our team of agriculture engineers are well trained and certified to receive, handle and deliver the freshest frozen Products.
Extensive Crop audit procedures by our agriculture engineers to ensure we get the best crop for our clients.
Our Farms combined with contracted farms to source the freshest product.
Receiving around 200 Tons of raw material per day from our wide range of products.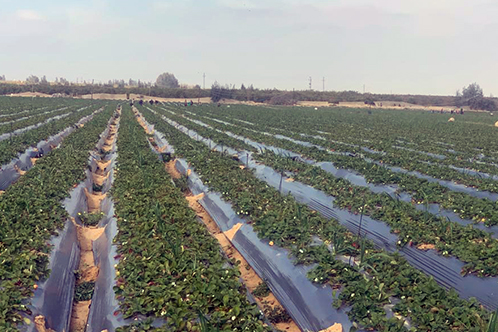 Receiving and selecting only the freshest products, in terms of quality and size. our well-trained workers start the selection process according to the products' specifications. 
3- Disinfecting, Washing & Sorting
The product passes a three stages washing process to ensure the best outcomes.
for vegetables, after it is washed and cleaned the product is effectively blanched according to its specifications.
A second selecting procedure occurs to ensure that all products are according to standards.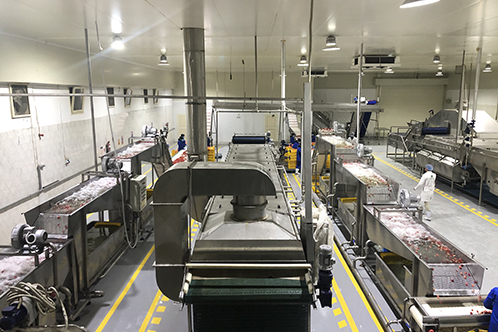 The product is frozen at (-40 °C)
Our IQF freezing tunnel are Top of the market technology that ensures the highest food safety standard for our customers. The quality of the original product is maintained as the IQF keeps the shape, taste, color, smell, and texture intact for defrosting.
After freezing, a final selecting process takes place in order to finalize having top quality products.
Passing by optical and laser sorting to ensure the required specyptications and lack of foreign bodies. 
The product is weighed for packaging.
All products pass through a metal detector as a mandatory step.
At alkayyan, we can do all types of packaging according to customers' requirements. The packages are labeled with the product information and manufacture date. Meeting customers' specific demands and satisfying them is our goal.
We offer four different types of packaging, which are:

    1. Bulk     2. Retail     3. Catering     4. Private label

 
alkayyan takes care of every aspect of our frozen products until they are safely in the hands of our customers.
alkayyan strictly respects the agreed-upon delivery times. Understanding the essentials needed for successful delivery is crucial.
The containers transporting the frozen products are thoroughly cleaned and tested for temperature before loading. Also, the products during the transportation process shall not be less than -18°C